"WE ALL HAVE EXPERIENCES IN LIFE, MINE HAVE BEEN NEITHER MORE EXTRAORDINARY NOR LESS

ENGAGING THAN ANYONE ELSE'S, BUT HAVE INVOLVED UNIVERSALLY HEARTFELT SENTIMENTS,

I FEEL SHOULD BE SHARED."
~ Richard Lawrence Belford ~
Inspirational Author
"We are all tied to the ocean. And when we go back to the sea, whether it is to sail or to watch, we are going back from whence we came."
~ John F. Kennedy ~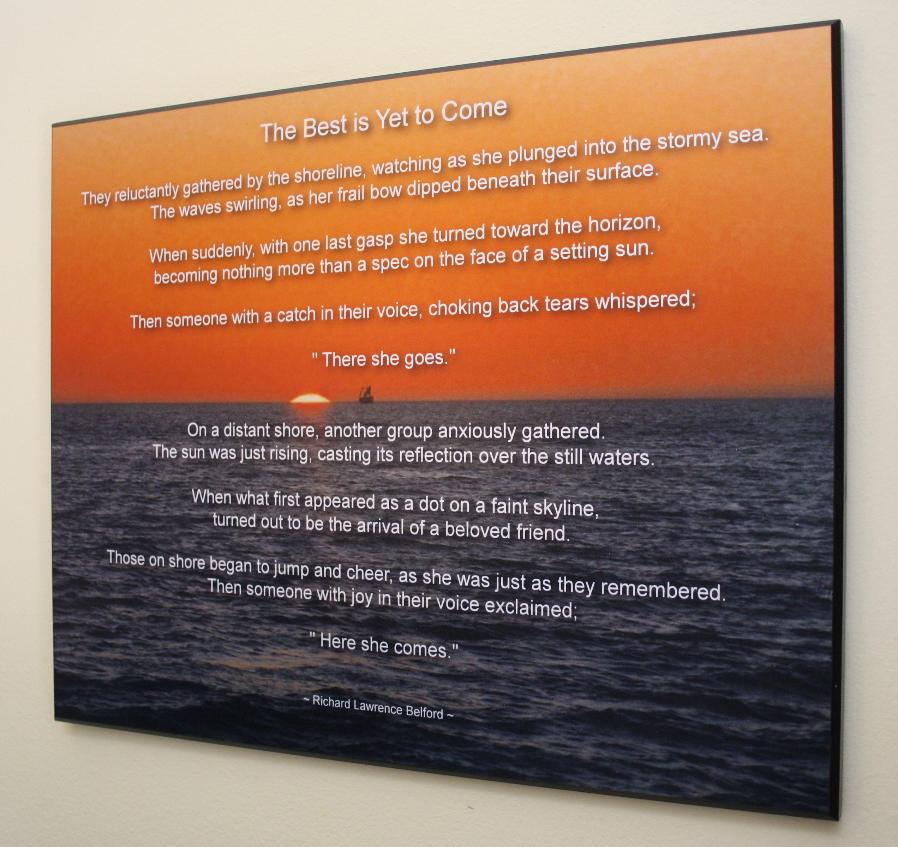 "The Pain of parting is nothing to the joy of meeting again." ~ Charles Dickens ~
The Best is Yet to Come is a beautifully illustrated 11'' x 14'' wall décor product designed by Richard Lawrence Belford featuring his glorious photograph of a ship in the setting sun, along with his inspiring parable whose message of faith provides all the peacefulness of a sunset and promise of a sunrise.
It is professionally printed on metallic photographic paper and mounted on ⅜ inch pressboard with a UV protective laminate and contemporary black bevelled edge. It can also be custom ordered in 16'' X 20'' and 24'' X 36'' inch sizes.
For

additional

information regarding

availability,

retail ordering & pricing,

wholesale purchasing &

distribution or

custom sizes

please email



info@richardlawrencebelford.ca
"The Best is Yet Come" is manufactured, retailed and wholesale distributed by


Reed Art & Imaging has been in business since1976 and is family owned. They are located at 8000 W. Colfax in Lakewood, Colorado in the heart of the vibrant and eclectic Sun Valley neighbourhood of west Denver in 25,000 square feet of creative space for TrueArt™ consultations.
They do fine art reproductions, true professional photographic latent image printing and
evaluations in an expertly lit studio designed for photo-art manufacturing, fulfillment and shipping.