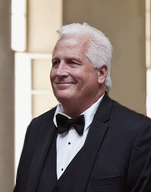 Richard
Lawrence Belford is the author of It's Not Goodbye, It's See You Later; A Collection Of Inspirational Parables.
A parable is a symbolic story that illustrates or teaches some truth, religious principle or moral lesson.
He has written the
parables;
A Mother's Work Is Never Done, Enduring Embers, If Not For You, I Wish, Like Father Like Son, Loving You, Remember When, These Days, The Promise, and many others.
Richard
is also a regular contributor to Centering Corporation's Grief Digest Magazine and Grief Resource Library. The Centering Corporation is the largest grief resource center in North America.
In May 2011, He wrote The Duke of Cambridge Prince William enclosing a copy of his parable "A Mother's Work Is Never Done" in anticipation of His Royal Highness's visit Richard's hometown of Ottawa, Ontario, Canada
where His Royal Highness chose to unselfishly share in the country's July 1st birthday celebrations on what was certainly a most difficult day, given it was also his late mother Diana's 50th birthday.
On the eve of Prince William's trip to Canada Richard received a letter from St James Palace thanking for his very thoughtful and beautiful poem. It also said that His Royal Highness was deeply touched by its words of support and encouragement, and included his warmest thanks and heartfelt best wishes.
He will always remember how incredibly gratifying it was to think that he had been allowed to touch the heart of a son, whose mother had touched so many of ours.
Richard feels those who have experienced loss should support one another's efforts to comfort others and
believes It's Not Goodbye, It's See You Later's heartfelt parables and short stories about life, love & loss will inspire those who read them to always say; "I'll see you later, instead of goodbye!
His new book It's Not Goodbye, It's See You Later; The Best Is Yet To Come is set to released in the Spring of 2023. He can be contacted at: info@richardlawrencebelford.ca for further information.