"AN INSPIRATIONAL VERSE IS LIKE A SONG FOR THOSE WHO CANNOT SING!™"

~ Richard Lawrence Belford ~

A Mother's Work Is Never Done
Richard remembers his mother telling him during one of the many occasions they would gaze up at the stars over their family's cottage that she had often thought since her own mother's passing that the brightest star was actually her mother watching over her.
This is what inspired him to write;
"A Mother's Work Is Never Done" and he has
never forgotten it, and genuinely believes that we should always reflect upon our most cherished memories because whether your mother is still with you or not, she will always live in your heart.
These sentiments were
also the catalyst for his sending a copy of
"A Mother's Work Is Never Done"
to
Prince William
several years later
in anticipation of his July 1st, 2011 visit to Richard's hometown of Ottawa, Ontario, Canada.
So, for those still fortunate enough to have their mothers, I wish you and yours well, and for all who are not as blessed this is for you. I hope "A Mother's Work Is Never Done" and its message of faith brings you joy.
July 1, 2011 Canada's 144th Birthday
It's hard to believe this year marks 25th anniversary of Princess Diana's tragic death, but like most people Richard remembers where and exactly what he was doing when first hearing the heart-breaking news.

It was absolutely remarkable not only to him, but I'm sure to literally millions of others just how much grief could be felt for a woman most of us had never met. In her short lifetime it's an absolute tribute to the fact that she was not only the people's princess, but also their queen of hearts.
On May 3rd 2011 Richard wrote Prince William enclosing a copy of his poem "A Mother's Work Is Never Done" on the eve of The Duke of Cambridge; Prince William's and The Duchess of Cambridge Catherine's July 1st 2011 visit to Ottawa, Ontario where His Royal Highness was to unselfishly share in Canada's 144th birthday celebrations on what was to certainly be a very difficult day, given it was also his late mother Diana's 50th birthday.
Richard received a reply dated June 28th 2011, thanking him for his thoughtful letter and beautiful poem. The letter from Saint James Palace informed him that His Royal Highness not only read "A Mother's Work Is Never Done" but was deeply touched by it's words of support & encouragement and included Prince William's warmest thanks & heartfelt best wishes.
In August 2011 not only was Richard's poem 'A Mother's Work is Never Done" and the letter from Prince William referenced in Greetings Today Magazine, but his insights regarding inspirational writing were also quoted throughout their feature article on verse, sentiment and sympathy.

Greetings Today is owned by Lema publishing and is the United Kingdom's highest circulation business magazine for publishers, suppliers, buyers and retailers of greetings cards. The article entitled; "An Eloquent Send" can be viewed here.
Below are copies of the letter Richard wrote The Duke of Cambridge, the poem "A Mother's Work is Never Done" and the subsequent letter received from Saint James Palace.
Richard will never forget how incredibly grateful and gratifying it was to think he had been allowed to touched the heart of a son, whose mother had touched so many of ours.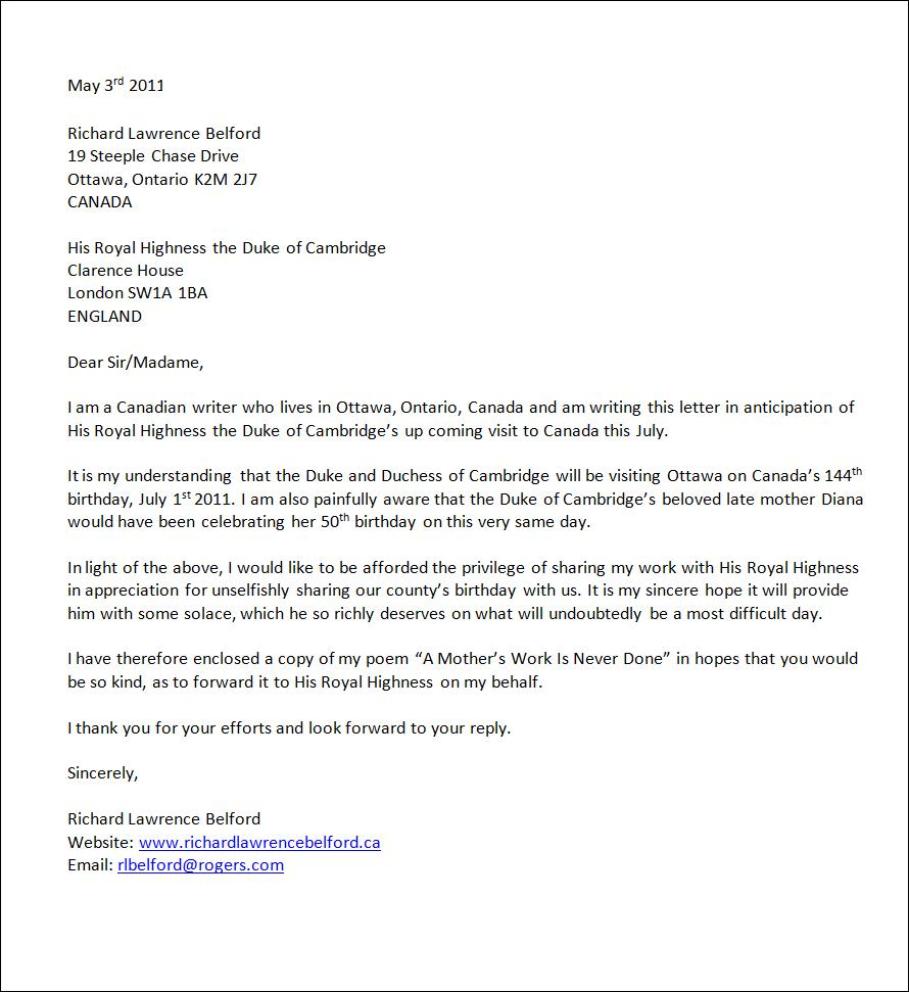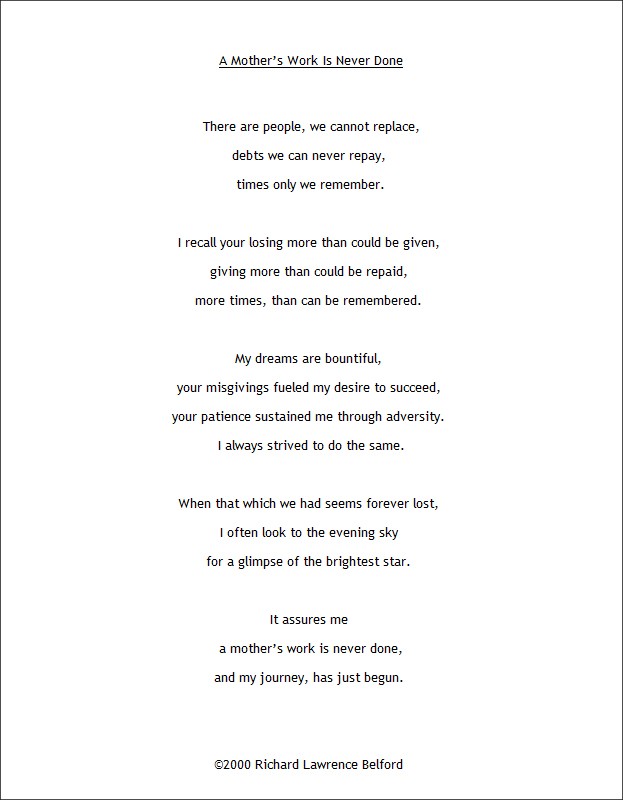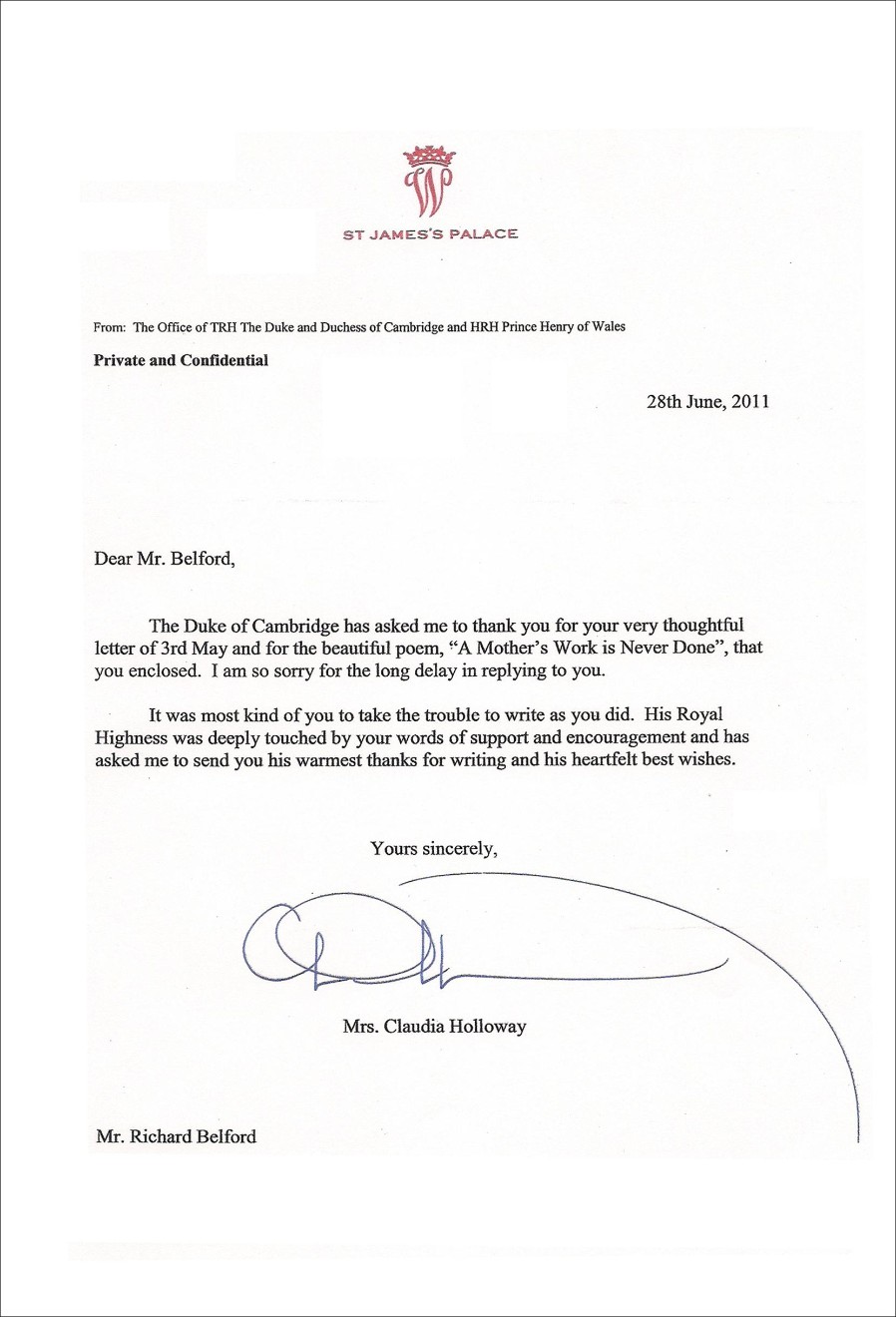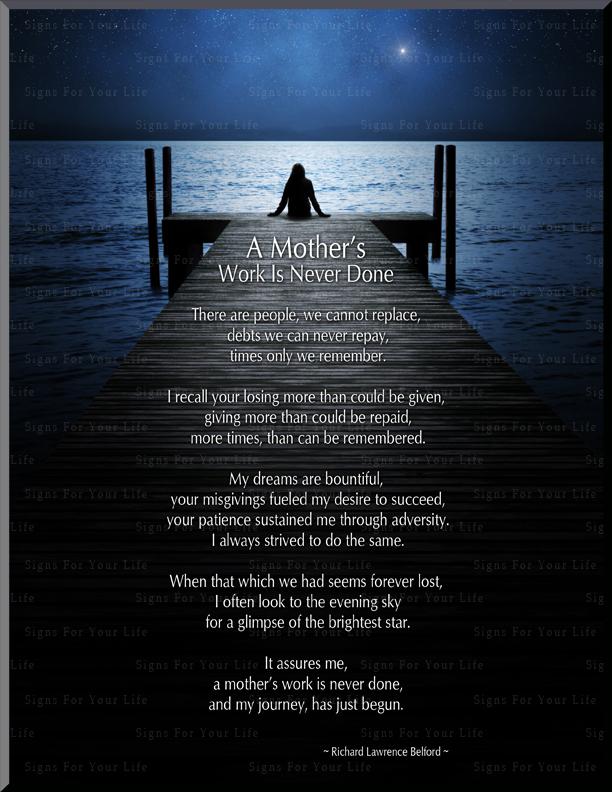 JUNE 2013
The National September 11 Memorial & Museum

"In The Blink Of An Eye"
Unfortunately, I like most people remember exactly where I was and what I was doing fifteen-years ago Tuesday, September 11, 2001 on what initially promised to be a very beautiful autumn day.

I also recall what I was thinking, and just how helpless I felt when witnessing the horrific sights and sounds that were to come.There was nothing I could do then, but in the days that followed I wrote the following parable
It was then, as it is now my sincere hope that it would someday serve to assure those who lost loved ones, that by virtue of our thoughts they were and never will be, alone.
In the spring of 2013 Reed Photo Art & Imaging's Designer, Dan Reed and Richard's collaborative artwork entitled; "In The Blink Of An Eye" was registered with the 9/11 Memorial Artist's Registry, along with the following artist's statement:
"It is my genuine desire that the words and images on this artwork not only provide some refection, but also serve to assure all those who lost loved ones that by virtue of our thoughts, they were never alone."

~ Richard Lawrence Belford ~
As a Canadian Author, Richard has always taken a tremendous amount of pride in his being allowed to take part in The National September 11 Memorial & Museum's rebuilding efforts and looks forward to doing even more in the future. His Portfolio and Resume can be viewed at the following link: www.911memorial.org/registry/rlbelford

On September 25, 2013 Richard was given the following Basno 9/11 Memorial Supporter Badge as a token of gratitude for supporting the nonprofit National September 11 Memorial & Museum.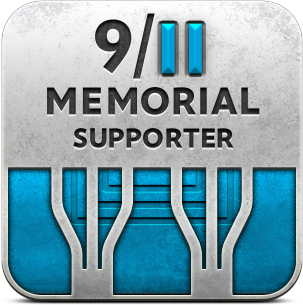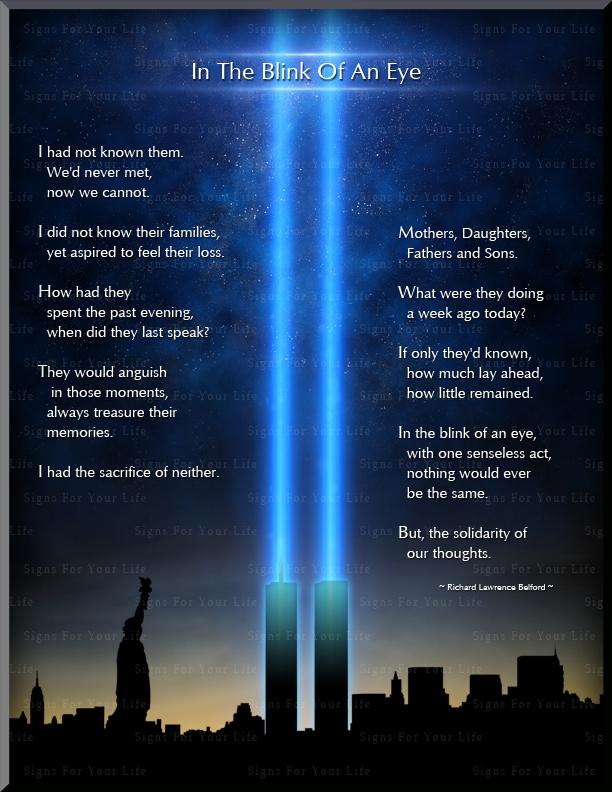 An inspirational book a
bout life, love and loss.
It's Not Goodbye, It's See You Later is a full-colour 8½'' x 11'' coffee table book that includes; beautifully illustrated artwork, inspiring quotes and a collection of Richard Lawrence Belford's inspirational parables, accompanied by his stories behind their creation. A parable is a symbolic short story that illustrates or teaches some truth, religious principle or moral lesson.
Now, although the book is about loss, it's also about the many lives, and love shared by family & friends. As just one of literary millions of people who have lived, loved and experienced loss Richard has dedicated the book to the memory, and written its forward as a tribute to his father. He hopes it makes him proud.
He also encourages you to visit the It's Not Goodbye, It's See You Later Facebook Page and join the increasing number of people who believe Richard's writing has inspired them to always try & say; "I'll see you later, instead of goodbye!"
It is available World-wide on amazon.com, barnesandnoble.com in the United States and in Canada on chapters.indigo.ca.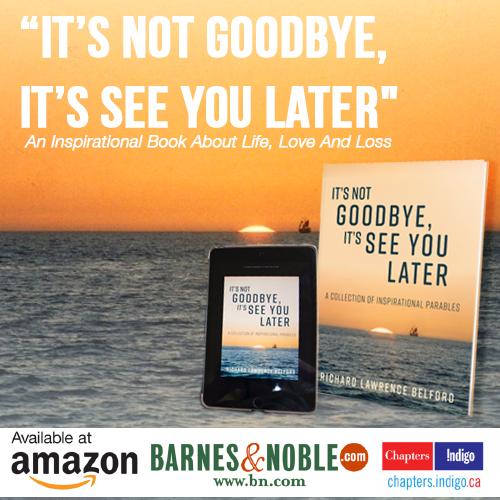 ©2017 Richard Lawrence Belford
"The pain of parting is nothing to the joy of meeting again." ~ Charles Dickens ~